Good morning and Happy Thursday all my bookish friends! Well, I have made it a little more than halfway to my goal of reading the entire Harry Potter series. I am so excited, and honestly super proud of myself. So now, onto the review!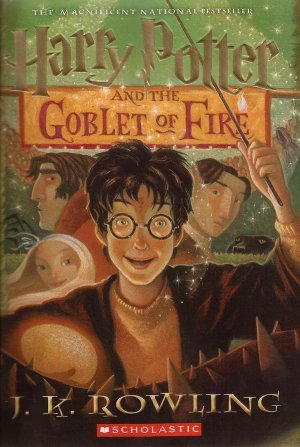 ---
Title: Harry Potter and The Goblet of Fire (Harry Potter #4)
Author: J.K. Rowling
Genre: Young Adult, Fantasy, Fiction
Format: Hardcover, borrowed from library
Pages: 734
⭐⭐⭐⭐/5
Harry Potter is midway through his training as a wizard and his coming of age. Harry wants to get away from the pernicious Dursleys and go to the International Quidditch Cup. He wants to find out about the mysterious event that's supposed to take place at Hogwarts this year, an event involving two other rival schools of magic, and a competition that hasn't happened for a hundred years. He wants to be a normal, fourteen-year-old wizard. But unfortunately for Harry Potter, he's not normal – even by wizarding standards. And in his case, different can be deadly
What I really enjoyed about this book was the obvious character development. I thought there was so much of a difference between Harry and Hermoine than how they were in the first 3 books. Harry kind of got a little angsty and it felt more like he was a teenager. Hermoine showing her passion about the working elves, it developed her character more for me and made me able to learn something more than I have with the last three. Of course, the writing was amazing. I don't think there has been a point in any of the four books that I have read where I did not enjoy the writing style. It flows so freely, and honestly I have never read a book with a better writing flow.
Okay, I have to be honest, the story fell really flat for me. The whole tournament, the Quidditch match in the beginning, it just didn't interest me at all. I know people have said they really enjoyed the whole plot and the story, but I could not get into it. Even when Voldemort pops up, I really just didn't care. At first I thought it might be me, because I just read 4 Harry Potter books in a row, and that's a little crazy in itself. But then I realized, no I don't actually think it's me, I just think it's the book. I honestly was going to give it 3 stars, but the writing and the character development I saw, and us FINALLY getting into some action with Voldemort, which was due, that's why I decided to give it a four. AND, we found some background info on Hagrid, which made me happy because he is easily my favorite character in the series right now.
Well what do you guys think? Thoughts on book 4 of Harry Potter?