Happy Tuesday everyone, hope everyone is enjoying their day! I read this book last month, and finally getting to the review. This is my first Victoria Schwab read, so I was pleased with what I read, I thought it was a decent middle grade. I will definitely be checking out her books that are more geared towards my normal reading range.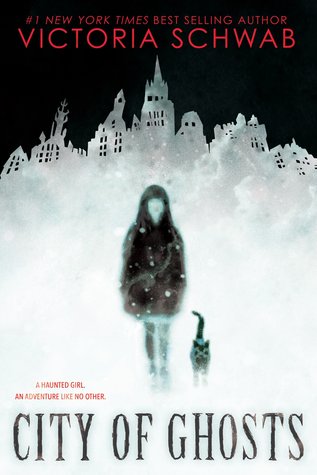 Title: City of Ghosts (Cassidy Blake #1)
Author: Victoria Schwab
Genre(s): Middle Grade, Paranormal, Fantasy
Pages: 272 (5 hours audio)
Format: audiobook, borrowed from Overdrive
Number in Series: 1
⭐⭐⭐/5
Cassidy Blake's parents are The Inspecters, a (somewhat inept) ghost-hunting team. But Cass herself can REALLY see ghosts. In fact, her best friend, Jacob, just happens to be one.
When The Inspecters head to ultra-haunted Edinburgh, Scotland, for their new TV show, Cass—and Jacob—come along. In Scotland, Cass is surrounded by ghosts, not all of them friendly. Then she meets Lara, a girl who can also see the dead. But Lara tells Cassidy that as an In-betweener, their job is to send ghosts permanently beyond the Veil. Cass isn't sure about her new mission, but she does know the sinister Red Raven haunting the city doesn't belong in her world. Cassidy's powers will draw her into an epic fight that stretches through the worlds of the living and the dead, in order to save herself. 
I thought the writing was incredible. When people say Victoria's writing is fantastic, they aren't lying. She writes her character's really well and it flowed pretty easily. Most of the star rating is just because of how well the story was written.
What I didn't like was mainly the style. I think this is more of a person preference, but Middle Grade just isn't my style. Cassidy wasn't a relatable character for me, even though she was written pretty well. I also didn't feel interested because the whole ghosty paranormal stuff just didn't interest me.
Sadly, I also think I fell victim to author hype, and had super high expectation for this because it was Victoria Schwab, but I don't think it shows how much of a writer she is. I might continue on with the series, maybe try the next one which comes out later in the year, but I think for now no more paranormal readings for me.
What do you guys think of Paranormal books? Yay or nay?