So I decided that while continuing on with my Monthly TBR's, Monthly Wrap-Ups, why not keep track of Upcoming Releases for each month too? I find that I kind of have trouble keeping up with book releases each month because there are just sooo many I want to read and I already have a huge TBR. These are definitely not all off the book releases for April 2019, but just a few that I thought sounded interesting and/or ones that are very highly anticipated.
Serious Moonlight – Jenn Bennett (April 16)
After an awkward first encounter, Birdie and Daniel are forced to work together in a Seattle hotel where a famous author leads a mysterious and secluded life in this romantic contemporary novel from the author of Alex, Approximately.
Mystery-book aficionado Birdie Lindberg has an overactive imagination. Raised in isolation and homeschooled by strict grandparents, she's cultivated a whimsical fantasy life in which she plays the heroic detective and every stranger is a suspect. But her solitary world expands when she takes a job the summer before college, working the graveyard shift at a historic Seattle hotel.
In her new job, Birdie hopes to blossom from introverted dreamer to brave pioneer, and gregarious Daniel Aoki volunteers to be her guide. The hotel's charismatic young van driver shares the same nocturnal shift and patronizes the waterfront Moonlight Diner where she waits for the early morning ferry after work. Daniel also shares her appetite for intrigue, and he's stumbled upon a real-life mystery: a famous reclusive writer—never before seen in public—might be secretly meeting someone at the hotel.
---
The Princess and the Fangirl (Once Upon a Con #2) – Ashley Poston (April 2)
The Prince and the Pauper gets a modern makeover in this adorable, witty, and heartwarming young adult novel set in the Geekerella universe by national bestselling author Ashley Poston.
Imogen Lovelace is an ordinary fangirl on an impossible mission: save her favorite character, Princess Amara, from being killed off from her favorite franchise, Starfield. The problem is, Jessica Stone—the actress who plays Princess Amara—wants nothing more than to leave the intense scrutiny of the fandom behind. If this year's ExcelsiCon isn't her last, she'll consider her career derailed.
When a case of mistaken identity throws look-a-likes Imogen and Jess together, they quickly become enemies. But when the script for the Starfield sequel leaks, and all signs point to Jess, she and Imogen must trade places to find the person responsible. That's easier said than done when the girls step into each other's shoes and discover new romantic possibilities, as well as the other side of intense fandom. As these "princesses" race to find the script-leaker, they must rescue themselves from their own expectations, and redefine what it means to live happily ever after.
---
Mera: Tidebreaker – Danielle Paige (April 2)
Mera is teenage royalty, heir to the throne of Xebel, the other not-so-lost colony under the sea. But Mera is destined to wear a different crown, that of Atlantis. When the inhabitants of Xebel plot to overthrow their homeland of Atlantis, Mera is sent to kill the heir to the throne, Arthur Curry. As the unrest between their colonies grows, Mera and Arthur unexpectedly fall in love…will Arthur Curry be the king at Mera's side in Atlantis, or will he die under her blade?
Mera by Danielle Paige is an astonishing story that explores themes of duty, love, heroism and freedom, all through the eyes of readers' favorite undersea royalty.
---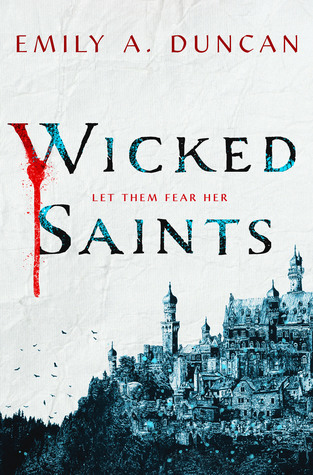 Wicked Saints (Something Dark and Holy #1) – Emily A. Duncan (April 2)
A girl who can speak to gods must save her people without destroying herself.
A prince in danger must decide who to trust.
A boy with a monstrous secret waits in the wings. 
Together, they must assassinate the king and stop the war.
In a centuries-long war where beauty and brutality meet, their three paths entwine in a shadowy world of spilled blood and mysterious saints, where a forbidden romance threatens to tip the scales between dark and light. Wicked Saints is the thrilling start to Emily A. Duncan's devastatingly Gothic Something Dark and Holy trilogy.. 
---
Defy Me (Shatter Me #5) – Tahereh Mafi (April 2)
The gripping fifth installment in the New York Times, USA Today, and Publishers Weekly bestselling Shatter Me series. Will Juliette's broken heart make her vulnerable to the strengthening darkness within her?
Juliette's short tenure as the supreme commander of North America has been an utter disaster. When the children of the other world leaders show up on her doorstep, she wants nothing more than to turn to Warner for support and guidance. But he shatters her heart when he reveals that he's been keeping secrets about her family and her identity from her—secrets that change everything.
Juliette is devastated, and the darkness that's always dwelled within her threatens to consume her. An explosive encounter with unexpected visitors might be enough to push her over the edge.
---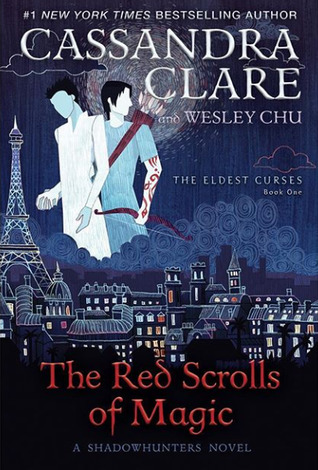 The Red Scrolls of Magic (The Eldest Curses #1) – Cassandra Clare & Wesley Chu (April 9)
All Magnus Bane wanted was a vacation—a lavish trip across Europe with Alec Lightwood, the Shadowhunter who against all odds is finally his boyfriend. But as soon as the pair settles in Paris, an old friend arrives with news about a demon-worshipping cult called the Crimson Hand that is bent on causing chaos around the world. A cult that was apparently founded by Magnus himself. Years ago. As a joke.
Now Magnus and Alec must race across Europe to track down the Crimson Hand and its elusive new leader before the cult can cause any more damage. As if it wasn't bad enough that their romantic getaway has been sidetracked, demons are now dogging their every step, and it is becoming harder to tell friend from foe. As their quest for answers becomes increasingly dire, Magnus and Alec will have to trust each other more than ever—even if it means revealing the secrets they've both been keeping.
---
Mirror, Mirror (Twisted Tales #6) – Jen Calonita (April 2)
What if the Evil Queen poisoned the prince?
Following her beloved mother's death, the kingdom falls into the hands of Snow White's stepmother, commonly referred to as "the Evil Queen" by those she rules. Snow keeps her head down at the castle, hoping to make the best of her situation.
But when new information about her parents resurfaces and a plot to kill her goes haywire, everything changes for Snow. With the help of a group of wary dwarfs, a kind prince she thought she'd never see again, and a mysterious stranger from her past, Snow embarks on a quest to stop the Evil Queen and take back her kingdom. But can she stop an enemy who knows her every move and will stop at nothing to retain her power… including going after the ones Snow loves?
---
I know I missed a lot of new releases, but these are just a few I've had my eye on and ones I have heard a few people really excited for their release. What books are you excited to see come out this month?