Yay! We have officially made it to April guys! I am so excited for this month. The weather is getting nicer, I can open up the windows in my house finally, sit outside and READ! Ugh, this winter was too long, but we are finally moving on from this! If you guys happened to see my March Wrap-Up a few days ago, oh man. It was pathetic. I read one book, and it was my least liked book so far of the year.
BUT, we are moving past it! A new month filled with nice weather, nice vibes, and some nice new book picks. Speaking of new book picks, this month I did something a little different. I took out books I had never heard of before. All YA contemporaries (kind of), but different types. I have 2 'older' books, not that old just released before 2017 and on. One book that was released last year that is considered a 'Popular Now!' book at my library, and a 'NEW' release at my library. Never heard of any of them, but I am excited to read them. Now enough talking, on to the monthly TBR!
Mammoth – Jill Baguchinsky
So this was the 'Popular Now!' book that my library categorizes, and I had never heard of this before, but honestly, I loved the cover. I thought it was so cute and once I read the book, I kind of actually fell in love with it.
The summer before her junior year, paleontology geek Natalie Page lands a coveted internship at an Ice Age dig site near Austin. Natalie, who's also a plus-size fashion blogger, depends on the retro style she developed to shield herself from her former bullies, but vintage dresses and perfect lipstick aren't compatible with prospecting for fossils in the Texas heat. But nothing is going to dampen Natalie's spirit — she's exactly where she wants to be, and she gets to work with her hero, a rock-star paleontologist who hosts the most popular paleo podcast in the world. And then there's Chase the intern, who's seriously cute, and Cody, a local boy who'd be even cuter if he were less of a grouch.
It's a summer that promises to be about more than just mammoths.
Until it isn't.
When Natalie's hero turns out to be anything but, and steals the credit for one of her accomplishments, Nat has to unearth the confidence she needs to stand out in a field dominated by dudes. To do this, she'll have to let her true self shine, even if that means defying all the rules for the sake of a major discovery.
Okay, this sounds, so ridiculously cute. I'm pretty excited to read this one. Have you guys heard of this book before????
Your Robot Dog Will Die – Arin Greenwood
So, this is the 'NEW' book I picked out. I have to be honest, I only picked it out because its like not even 200 pages and hopefully it will just be a quick read. It seems kind of heavy for the light, contemporary feeling I was going for, but, it's quick, it isn't this huge like 500 page book, and who knows maybe after all of my contemporary reading I will need something a little different.
In the mid-21st century, dogs are all but extinct. An experiment gone awry caused every canine on Earth to become hyperintelligent. When as a species they stopped wagging their tails, hysteria ensued—followed by a program of mass euthanasia. Now the only surviving dogs are relegated to a sanctuary off the coast of Florida: Dog Island. There, they are studied in a wild, feral, and protected state. And there, too, their robot replacements are tested before being sold for mass consumption.
Seventeen-year-old Nano Miller was born and bred on Dog Island, as were her two best friends, Jack and Wolf. Life has been mostly wonderful except for annual heartbreak, when another robot dog is torn from her arms and replaced with the latest model. And more recently, there is the heartbreak of her brother, Billy, who vanished without a trace a year earlier. Wolf, there to console Nano, has suddenly become more than a friend. (Bad news for Jack.) With the excitement of a surprise first romance, Nano is happier than ever, in spite of her loss. But then she makes a discovery that upends everything she took for granted: a living puppy who wags its tail. And there is no way she is letting this dog go.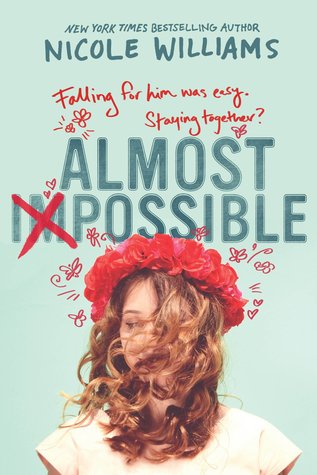 Almost Impossible – Nicole Williams
Now here is the contemporary feel I was looking for, and I actually already started reading this one. The main character, Jade, is kind of giving me like a Lana Del Ray vibe, I don't know, when I think of what Jade looks like while I read, I think of her. Anyways, it's a pretty decent book for a book I have never heard literally anything about. Hopefully it helps my reading mood kick into gear. Sounds like a cute little teen romance, so fingers crossed!
When Jade decided to spend the summer with her aunt in California, she thought she knew what she was getting into. But nothing could have prepared her for Quentin. Jade hasn't been in suburbia long and even she knows her annoying (and annoyingly cute) next-door neighbor spells T-R-O-U-B-L-E. 
And when Quentin learns Jade plans to spend her first American summer hiding out reading books, he refuses to be ignored. Sneaking out, staying up, and even a midnight swim, Quentin is determined to give Jade days–and nights–worth remembering.
But despite their storybook-perfect romance, every time Jade moves closer, Quentin pulls away. And when rumors of a jilted ex-girlfriend come to light, Jade knows Quentin is hiding a secret–and she's determined to find out what it is.
I don't know, I kind of have a good feeling about these books. What do you guys plan on reading this month?