Hello everyone! I have been on a roll lately and really enjoying writing some book reviews for you guys! I read this book back in April and I have been putting off writing it for some time now, so now I'm here lol. Let's get on to the review shall we?
---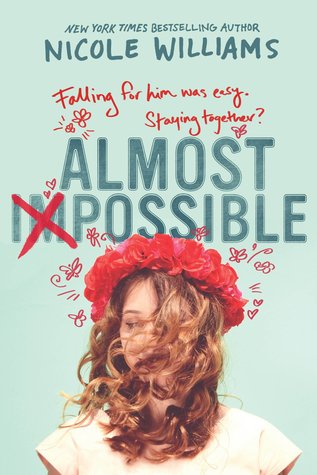 Title: Almost Impossible
Author: Nicole Williams
Pages: 242
Format: paperback
Genre(s): young adult, romance, contemporary
Publication Date: June 19, 2018
Triggers: teen pregnancy
Buy on Amazon, Barnes & Noble, Book Depository
⭐⭐⭐⭐/5
When Jade decided to spend the summer with her aunt in California, she thought she knew what she was getting into. But nothing could have prepared her for Quentin. Jade hasn't been in suburbia long and even she knows her annoying (and annoyingly cute) next-door neighbor spells T-R-O-U-B-L-E.
And when Quentin learns Jade plans to spend her first American summer hiding out reading books, he refuses to be ignored. Sneaking out, staying up, and even a midnight swim, Quentin is determined to give Jade days–and nights–worth remembering.
But despite their storybook-perfect romance, every time Jade moves closer, Quentin pulls away. And when rumors of a jilted ex-girlfriend come to light, Jade knows Quentin is hiding a secret–and she's determined to find out what it is.
This book was exactly what I needed to get out of a reading slump. It was cute, sweet and even had a plot twist I didn't even see coming.
I wanted to pick up a book that was going to be a fun read and something lighthearted and it was that. Jade was a really interesting character and I actually really enjoyed her. Quentin was funny and awesome as well.
The writing was surprisingly good. It was easy to read and sometimes with these kind of books it isn't the best story telling, but Williams really did a nice job.
The story I thought was way too short. It had an amazing plot twist, but it was rushed through at the end. I wanted to see more from that part of the story and if only it had been maybe 30 pages longer, it would've been a great read.
Another thing I didn't really care for which eventually brought down the star rating to a 4 instead of 5, was the insta-love trope. Basically, when two characters fall in love at first sight. Yeah they kind of hated one another at first, but I mean they were both in love with each other and drooling over one another when they met lol.
---
All in all, a great book. A great summer read. Glad I finally got around to reading this one.