Hello everyone! I'm so excited to post this second part to my Book Journaling series! This time we are going to be talking about some layout ideas for your book journal. Now, I understand, a lot of us aren't that crafty (including myself), but I do love art and doodling. It's a easy way to incorporate a side hobby of mine with my pretty much major hobby lol. But, some of us don't care to doodle and that's okay! I am going to show you guys some of the layouts I use to keep track of my reading, how it helps me, and maybe some other ideas for you guys as well. All of the images you see are images from Pinterest that I used to incorporate into my book journal.
Yearly Layouts
These layouts are meant to keep track of your entire year of reading, and I place these sheets at the front of my binder. I'll go through each one in depth, but the main point to each is to keep track of the entire year of reading.
A Books To Read spread is really helpful to keep in your journal because let's be honest… every Tuesday books are released and there's really only so many you can keep track in your head. You can highlight or check off the boxes as you go.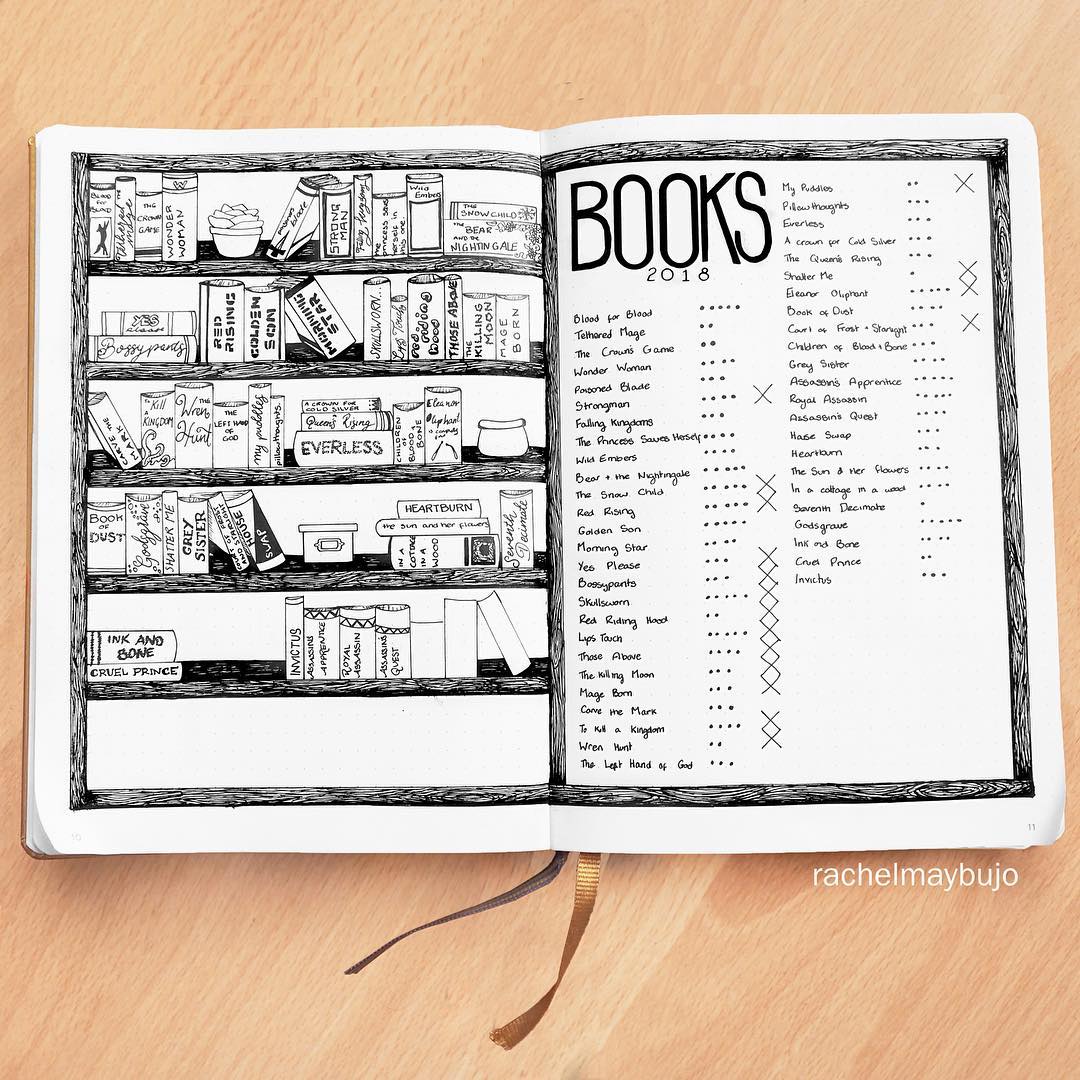 Now this is an extremely popular layout… I see this one all the time and honestly I love using this as an idea to keep track of books I read throughout my year. It's a lot easier than it looks to draw a bookshelf and just draw rectangles that look like books. Then on the spine you write the title of the books. It's a nice alternative if you're not really into making a bunch of lists all the time.
A Page Tracker is honestly one of the greatest ideas if you really like to keep track of the amount of pages you read or the amount of time you read. I love tracking pages more than I do amounts of time that I read, but you could easily change the key from like 50 pages to maybe 30 minutes? That's another thing that is great about book journaling, you pick what you decide to put in!
Monthly Layouts
So monthly layouts are for obviously, your reading you do within a month. I use these layouts the most in my journal. These are the pages that can tend to get accidentally torn, have a lot of smudges all over them in my case because I just use them everyday.
For the monthly layouts, if you use a binder like I do, I buy tabs at the beginning of the year that have 12 tabs, one for every month that are already pre-labeled with the month on them. If you're using an actual bullet journal, I would really use that index in the beginning of your journal so it's easy to find your spots. Tabs are also really easy to make and use for your bullet journal using these sticky tabs. Then I use the same trackers/layouts for each month. A monthly calendar, a monthly layout spread, a habit tracker, a mood tracker, and a music/movies tracker. So let's dive into each.
So first the monthly calendar, really really simple of an idea to use in a monthly layout, but really helpful! If you're also a book blogger, I 100% would recommend having a calendar in your reading journal to help you schedule posts. I schedule my posts, so although you may see my post come out in the middle of September, most likely I wrote that post in August. Same with book reviews, monthly new releases, top ten tuesdays, everything is in advance so I basically don't have to end up rushing at the end of the day. Using the calendar spread is awesome so I can just write down when I'm posting something, and when I'm scheduling I already know what days already have a post and what days don't.
The monthly reading layouts are kind of my own thing, but again really helpful. On these spreads I just make 3 sections, I title them 'Books I've Read', 'Books I Borrowed', and 'Books I Bought'. And I just keep track of everything in these layouts. Again, really simple but it holds a lot of information.
The lovely habit tracker. I love using my habit tracker, it's fun to fill out and it's really great to reflect on what you did each day and track healthy habits! You just write down a habit you want to track, then going across you mark off what days you did what. Here are some of the things I track in mine just to give you an idea of what you can track, but this is totally personal and up to you what you guys decide to track!
7 Hours of Sleep
Hydrate
No Anxiety
Read 50 or more Pages
Journal
Write Book Review
Blog Post
Draw
Next is the mood tracker, and this is nice to have in your reading journals if you're a total mood reader like I happen to be! I love tracking my mood to reflect on what happened in the day, and I find myself wanting to continue to see that happy color I use to color in on my tracker, so I tend to just try and be more happier throughout the day. It definitely motivates me to be in a good mood! Another way you could use this is by tracking your reading mood… One color could show you were in a really big reading mood, then at the other end of the scale a color could mean you just weren't in the mood to read at all. There are some different ways to use this so definitely try it out!
Last but not least is my music/movie tracker. Just like the monthly reading layout/log, I divide into two sections, one for music and one for movies, and I just like to keep track of new songs I find, and movies I watched. I always include music I listened to and movies I watched in my monthly wrap-up posts.
Reading Notes
The whole point of my reading binder is to hold all of the notes I take while reading. I always, always take notes for every book I read. It's easier for me to write reviews, look back at previous books I've read in a series, or refresh my mind of what may have happened in a book I read months prior. I have a simple layout for every single book review, and it's formatted like this on a piece of lined, college ruled paper:
Title
Author
Pages:
Format:
Genre:
Publication Date:
Start/End Date:
And then under all of this information, I just start writing all the notes I take. I like to make a line at the end of each day that I take notes/read to mark what I read on each day.
---
I really hope you guys enjoyed this very long post haha! I had so much fun making it and I'm really starting to love this little series I have going on here. I would love it if you guys could tag me or leave links down in the comments if you guys also have posts about book journaling/bullet journaling etc. 🙂
---