Hello everyone! I wanted to do this post since I am a book blogger and let's be honest, I would like most of this stuff. I did a guide for book lovers as well, so definitely check that out, but why not make a gift guide for the people that love books so much, that they blog about it. Let's get right into it!
---
(1) BOOKS!
Obviously for a book blogger, books is a definite possibility. You don't have to necessarily go out and buy someone a physical book. You can get them gift cards to where they buy there books from, you can make a date out of it and just give them a card saying you'll be taking them to a bookstore sometimes after the holidays and include "good for 3 books" or something like that.
(2) Lap Desk
I own a laptop, and that's what I usually use to blog with and honestly, sometimes you just don't want to sit at a desk for sometimes hours and blog. I love bringing my laptop to the couch and cuddling with a blanket, watching The Office or Disney movies and just get a lot of work done. While I love doing that, it can be annoying trying to figure out where to set up your laptop. This lap desk pictured above I found on Amazon, and can support your laptop, mouse, and your cell phone all in one space.
(3) A Journal/Planner
I definitely think this is an awesome Christmas gift, since we are practically at the end of the year, and even if they did have a planner, they'll need a new one anyways. Planners are an AMAZING tool for book blogging, especially if you love to plan ahead like I do. There are a lot of planners out there that can be just what the blogger in your life needs. I love the planners from Erin Condren, a little pricey, but totally worth it!
(4) WordPress themes
This is a really nice gift, and I would love to be gifted this. Sometimes a blogger just likes the freshen up their site and you can't always do that for free unfortunately. Giving them maybe a VISA gift card to buy their WordPress theme that is needed is a really cool gift, and it would probably mean a lot to the person you're gifting it too.
(5) Personalized Desk Items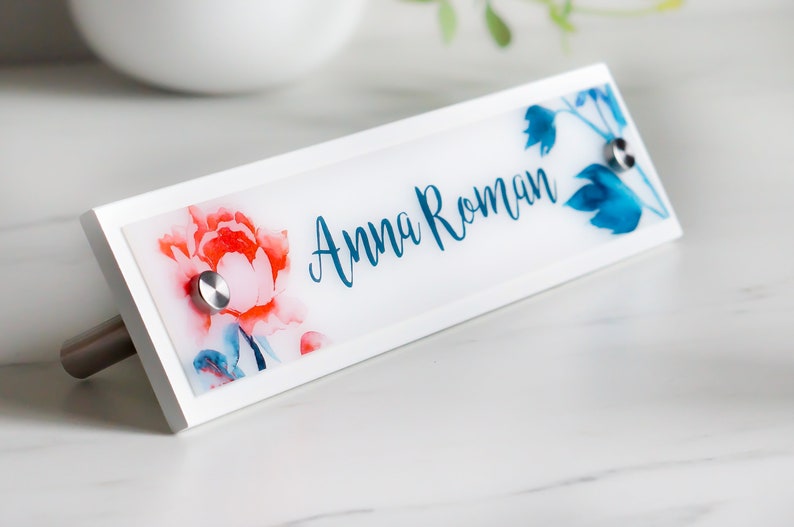 If you know you're book blogger friend has a desk they work at, and it's looking a little on the bleak side, this is definitely a good gift. I think most book bloggers have a work station or desk they work at, and let's be honest, we are always in the need for supplies. A cute customized pencil holder, a name plate, maybe a frame with a picture of you and the recipient, or even just a really cute knick-knack you know they'll be into. I found this name plate on Etsy and there are A LOT of customizable options.
(6) Stationery
There is this awesome line that Staples has and it's called Poppin. It is adorable stationery and every time I go into Staples, I am so interested to purchase something from that line. Come to find out, they have their own website and everything with a whole section to show off their office supplies. This sticky memo ball is so cute and any blogger would love to have this on their desk/work station.
(7) A New Camera
A lot of book bloggers I'm sure would love this gift. Even I would! Taking pictures is a big part of our job, and we need a good camera to do it. Camera's can get expensive, so this may be a good gift to have a few friends join to pitch in and do it as one big group.
---